The Challenge
Third Degree Glass Factory is a progressive event space, art gallery and glass blowing studio located on Delmar in St. Louis, Mo. Brevity was tasked with creating a cohesive online experience that relates to three unique audiences, while retaining user attention and increasing online conversions. Helping Third Degree organize and automate the online aspects of their already booming event business was an essential part of enhancing the user experience. A simpler eCommerce platform, customized to Third Degree's unique offerings needed to be built in order to convert more users into customers.
Brevity was tasked with creating one cohesive online experience for three unique audiences, while retaining user attention and increasing conversions.
Project Goals
Improve Site Architecture & Content Hierarchy
Build an Enhanced Online Experience
Generate Online Class Registration
Our Approach
Third Degree Glass Factory had been around for over 15 years, and has amassed a large amount of content that needed to be organized and structured in an easy to find way. Reorganizing the content hierarchy and redesigning the site navigation, including a custom mobile navigation, was integral to the success of the project. Since 58% of all traffic coming to the site was from mobile devices it was crucial that the user interface to be optimized for any size of mobile device. Simplifying the product offerings is essential, increasing customer cognition and removing doubt will increase the likelihood of a purchase. Working with Third Degree to reformat and simplify their instructional glass making sources to something a user could understand and purchase online, would allow us to increase the conversion rate significantly.
Simplifying the product offerings is essential, increasing customer cognition and removing doubt increases the likelihood of a purchase.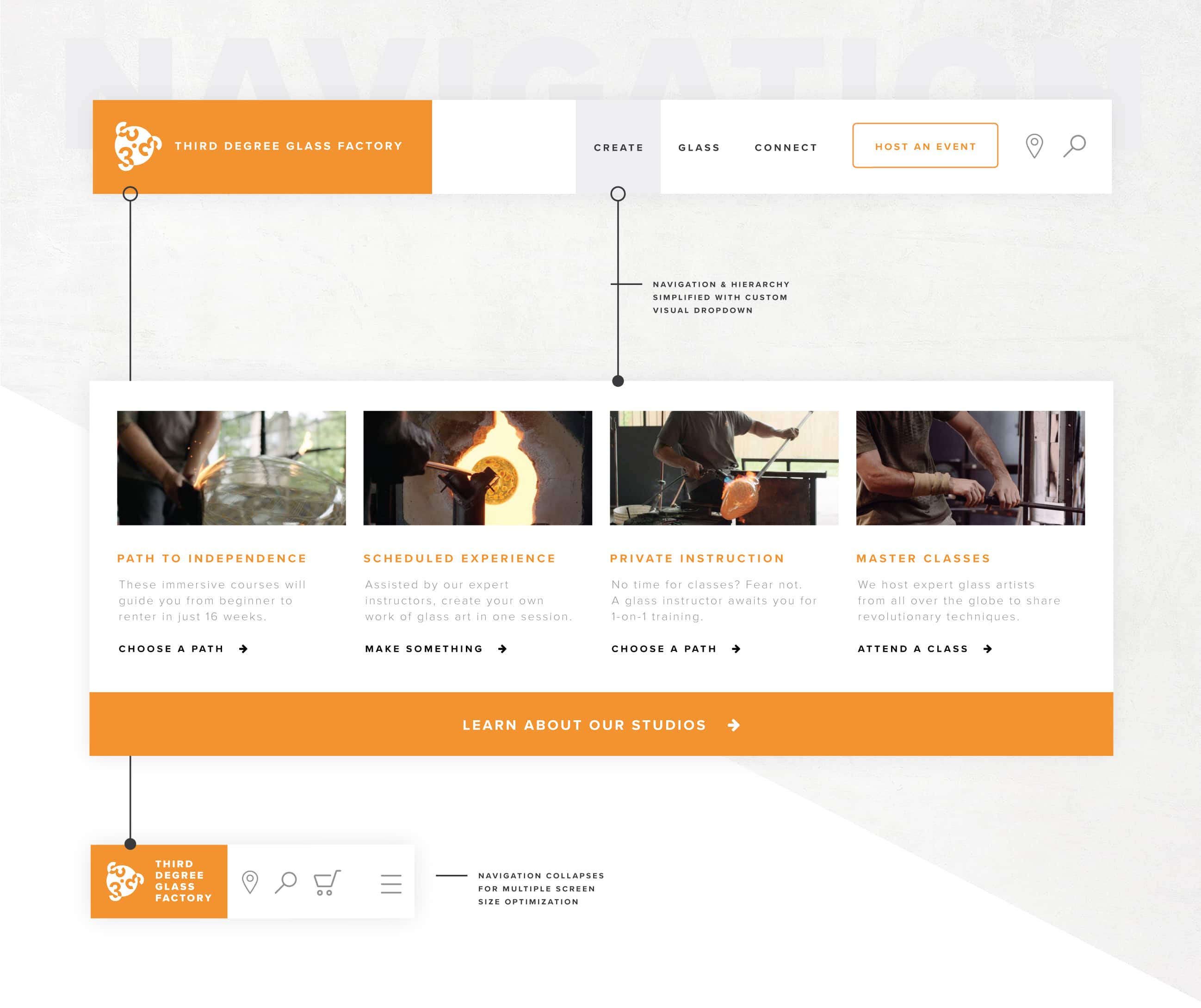 SITE ARCHITECTURE
Brevity reviewed past analytics and worked with Third Degree to determine the most prevalent content on their site and made it directly accessible to visitors. Simplifying the navigation on desktop and mobile devices makes it easier for users to find the information they seek. Custom designed modules for photo galleries, videos, pricing tables, instructor bios and products, allow us to present the content in a way that is easy for the users to digest, resulting in more page views and longer viewing duration.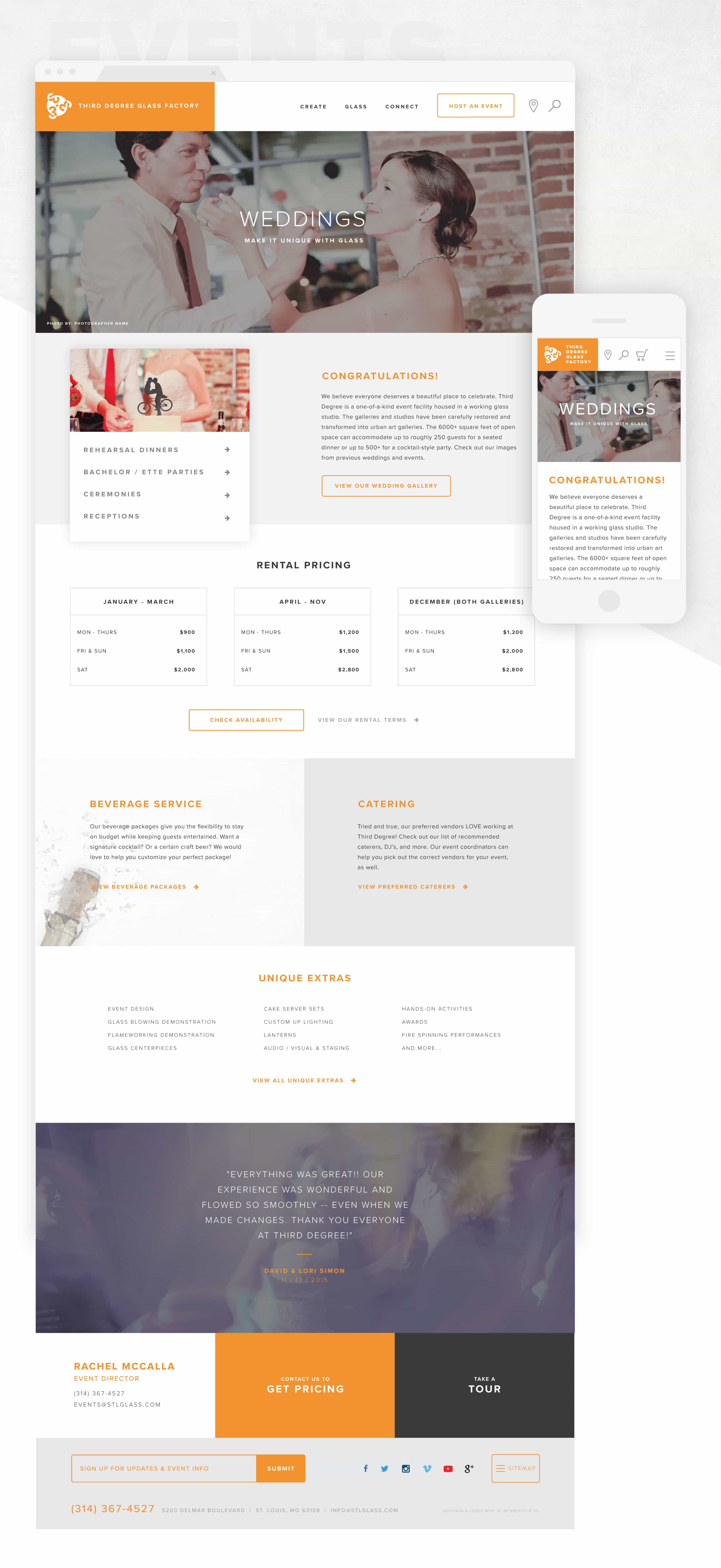 Responsive Design
Simplify the content and design elements for mobile optimization was a unifying factor across every goal we had for the site. With 51% of visitors viewing from their phones and just under 8% viewing from tablets, we knew we had to take a mobile first approach to design this site. Creating a custom navigation and designing fluid, responsive layouts that focused on a well organized content hierarchy is the only way to achieve this across the whole site. With the focus on mobile page speed we utilize things like semantic HTML to keep the code clean allowing machines to read the content and index it quickly.
Designing with a mobile first approach allowed us to give phone and tablet users exactly what they need when they need it, without taking away from the feature-rich experience of the site.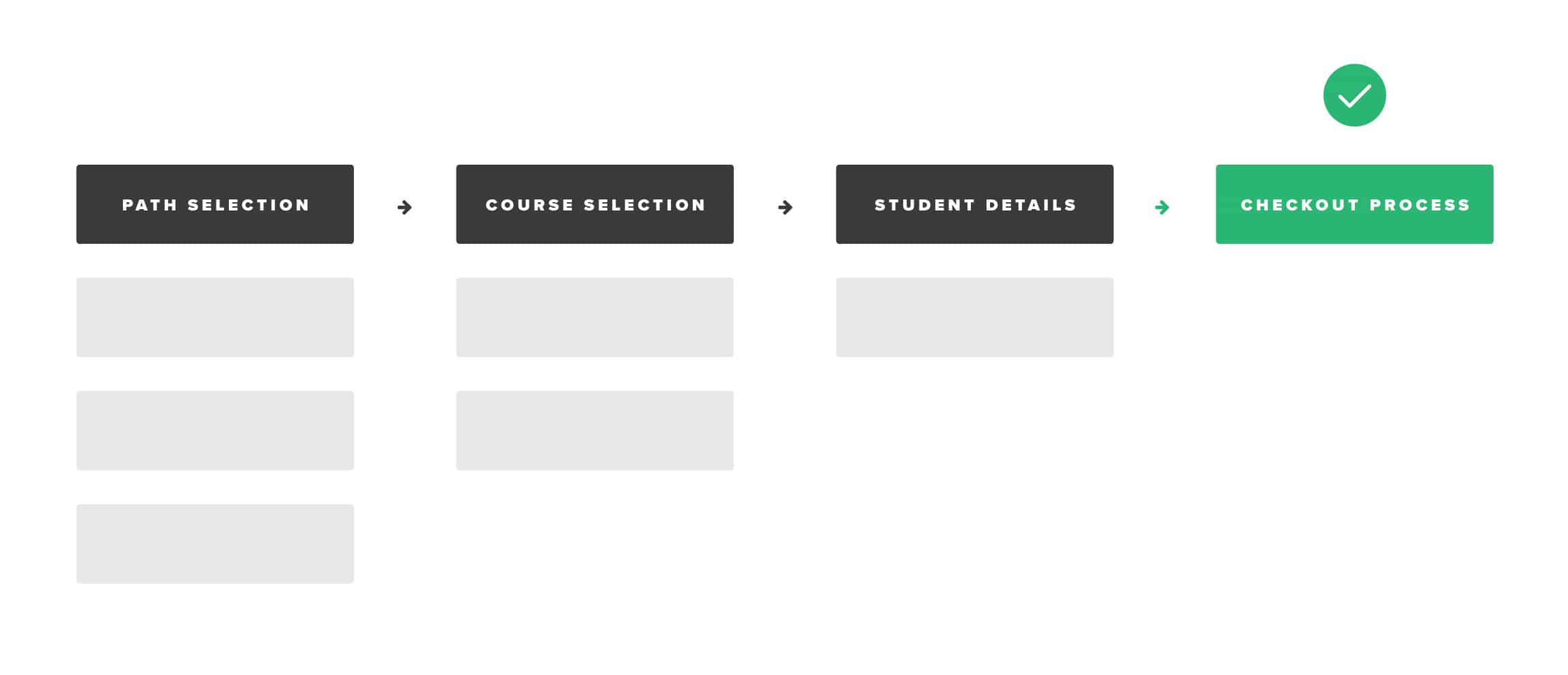 eCommerce Process Design
Simplifying the products and customizing the shopping experience to make it easier for the user to make a purchase instantly increased the conversion rate. The eCommerce portion of the site took off immediately, and started generating revenue day one. Within the first three months of its launch the site increased online sales by an average of 29% per month.
To put success into perspective, the site made enough revenue from online sales in the first 60 days to pay for the entire project.
Outcome
Increased Accessibility
As the site continues to see an increase in mobile and tablet users, the website has seen a decrease in bounce rate and an increase in page views.
Enhanced User Experience
Analytics have shown a drastic increase average session duration and the number of lead generating form submissions for the event space.
Increased Conversion Rate
Sales increased an average of 29% per month, over the first 3 months, & enough revenue was generated to pay for the project in just 60 days.
The team at Brevity is great! We received a responsive, eye-catching design that easily directs our prospective clients to desired page. Business across all departments is already doing better as a result. Brevity kept us well informed of how to stay current with the design of our new website, while also providing a creative edge that made us stand out.
Nick D.
Third Degree Glass Factory
VIEW WEBSITE